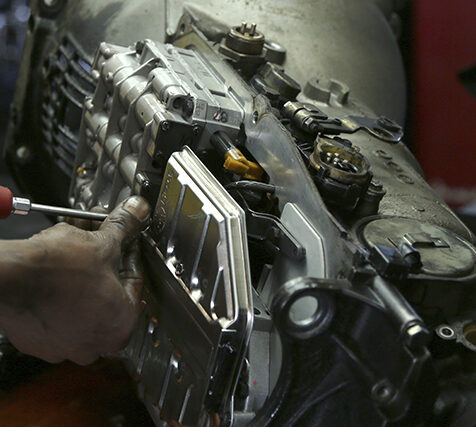 COLUMBIAVILLE TRANSMISSION REBUILD EXPERTS
No one wants to be staring down a transmission rebuild, but even with the best maintenance programs sometimes time catches up and destroys your beloved vehicle's transmission. If you are looking at investing in transmission repair, it can be helpful to know what you are getting into instead of just jumping in blindly. Brian's Transmission & Auto Repair is always happy to walk you through the process so that you never have to worry about unpleasant surprises. A transmission rebuild is a big step, so you need to know exactly how large of a step you are willing to take.
SHOULD YOU REBUILD OR REPAIR YOUR TRANSMISSION?
In some cases, if you notice that your transmission is slipping before any major breakdowns occur an auto technician can repair or adjust components in your transmission which will save you from the rebuild. This usually depends heavily on how many parts need to be replaced, and where they are located. If the part is buried in the transmission and the entire transmission needs to be removed from the vehicle, you might as well opt for a rebuild at that point. This is one reason why we always offer a full inspection before jumping straight into a transmission repair or transmission rebuild so that you know that you are making the very best choice.
WHAT IS INCLUDED IN A TRANSMISSION REBUILD?
If you are ready to make the leap, then you should view a transmission rebuild as an intricate surgery that requires a talented and delicate surgeon. In this case, you won't find a more meticulous or dedicated shop than ours. We have made transmission work our life, and we take every single client's needs seriously. Your cars mean as much to us as they do to you.
The process begins by removing the transmission from the inside of the car and then completely taking it apart. Once all of the parts are disassembled, they can be run through a parts washer allowing them to be thoroughly cleaned and then inspected one-by-one for any issues or defects. As part of this process, all gaskets and seals that are found to be faulty or odd will be replaced with new ones. This includes all parts that are identified as bad.
We will also take a close look at the electrical system to repair any and all issues. We also look at the make and model of your vehicle to see if the transmission has been updated since its release and if there are updated parts we will weigh if the inclusion of these components would improve the overall performance of the transmission when it is rebuilt.
Finally, we rebuild the transmission and place it back into your vehicle so you can confidently get back on the road.
AFFORDABLE & RELIABLE TRANSMISSION REPAIR IN COLUMBIAVILLE
Of course, even with regular maintenance, your transmission will age as time passes and eventually you might be dealing with a slip or some other type of mechanical issue. If you find yourself in that spot, don't give up on your car. Call Brian's Transmission & Auto Repair of Columbiaville to schedule and experience the best in transmission repair service.
MORE ON OUR AUTO REPAIR & SERVICE SPECIALTIES
CLUTCH REPAIRS


One of the best ways to extend the life of your clutch and to avoid the premature need for a clutch replacement is to repair it at the first sign of trouble. Signs that your vehicle needs clutch repair work include difficulty shifting gears, sluggish acceleration, unusual noises when shifting gears and more. We complete clutch repairs on all types of vehicles, and we are ready to look at your car. Count on us to deliver excellent results without delay when you schedule clutch repair service with us.
OVERDRIVE TRANSMISSIONS


Many vehicles today are designed with an overdrive transmission, which can boost fuel economy. When your overdrive transmission requires repair or maintenance work, it should receive prompt attention from experienced specialists. Our technicians have profound experience and a solid track record of delivering great results for all types of overdrive transmission services. For your convenience, you can call ahead of your arrival to schedule an appointment for the overdrive transmission service that your vehicle needs.
TRANSMISSION REBUILDS


Transmission rebuilds are a smart alternative to a transmission replacement, and you can count on our technicians to deliver quality results for this important service. Transmission rebuilds are generally necessary when a transmission repair service will not suffice. Through the expertise and hard work of our conscientious and skilled auto techs, transmission rebuilds are completed promptly and will enable you to extend the life of your aging vehicle. When you contact us for transmission repair work, we can answer your questions about transmission rebuilds.
CLUTCH REPLACEMENTS


Even when you complete clutch repair and maintenance work as needed, the clutch will eventually wear out. Quality clutch replacement is vital to the operation of your vehicle. Given the importance of excellent workmanship on a clutch replacement, you understandably do not want to let the first technician you come across work on your car. We have been replacing damaged clutches for many years, and we are ready to diagnose and repair your car's clutch issues.
TRANSFER CASES


Transfer cases are a critical component of your vehicle's movement, and they must be well-maintained for your safety on the road. Both all-wheel drive and 4-wheel drive vehicles have transfer cases. These transfer cases draw power from your vehicle's transmission, and they are responsible for moving that power to the vehicle's axles. Regardless of whether you know that your transfer cases need work or you want diagnostics completed for your car's transfer cases, we can help.
TRANSMISSION REPAIRS


Does your vehicle have a standard or overdrive transmission? Regardless of the type of transmission that is paired with your car's engine, we are the service center that will expertly complete transmission repair service so that you can get back out on the road soon. Given the importance of your vehicle's transmission, transmission repair work should only be completed by trustworthy, well-qualified technicians. At our service center, we address all types of transmission repair services, including transmission rebuilds, work on overdrive transmissions and more.